Pampa High School
Class of 1965
In Memory
Norman Stone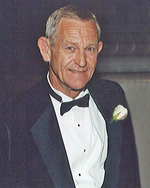 Norman Ray Stone (1946-2014)
Norman Ray Stone, 67, dedicated and loving husband, father and grandfather, passed away on Saturday, May 17, 2014 in Arlington.
Norman was born on October 12, 1946 in Dumas to Louis Stone and Christeen Poole Stone. He graduated from Pampa High School in 1965 and married Robbie Hendrix on June 11, 1972. A member of Calvary Baptist Church in Pampa, he moved to Arlington in 2004. Norman retired as a senior lab technician with Celanese Chemical Company of Pampa after 28 years of service. He loved his yard and gardening, but most of all spending time with his family.
Norman is preceded in death by his parents; two sisters; two brothers; and twin granddaughters, Audrey and Avery Stone in 2008.
Survivors: Beloved wife, Robbie Hendrix Stone; son, Jereme Shane Stone and wife, Shanna; daughter, Andria Necoe Crow and husband, Stanton; brothers, Russell Stone and Leslie Stone; granddaughter, Lily Kate Stone; grandsons, Jett Crow and Jake Crow; and sister-in-law, Marylon Nicolet and husband, Dan.