Pampa High School
Class of 1965
Our School Teachers
Do you remember?
There were 34 of us in Mrs. Cooper's first grade class at Sam Houston Elementary School. Does anybody know her first name?
Then there is Mrs. Bradley, our second grade teacher. What was her first name? She lived a block down Frost Street from us. We'd go to her cute house and visit with her. She always signed our report cards as "Mrs. J. I. Bradley." I think one time I found her husband's obituary but I don't recall if her name was mentioned in it though. It was typical in the early 1900s to know a woman by her husband's name (Mrs. John R. Price, not Pam Price). I'm just curious, that's all.
GRADE 1 Mrs. Cooper, Teacher (1953-1954):
TABLES:
FRONT ROW: Table 1: Nita Harvey, Steve ?, George Shelton, unknown, unknown, Chuck Worley; Table 2: Pat Ludeman, unknown, Jim Shelhamer, Mark Brown, Richard Fatheree.
MIDDLE ROW: Table 1: San Williams, unknown, Brad Weyandt; Table 2 Doug Hilburn, Jim Brumley; Table 3: Bill Henry, Mickey Smith, Terry Criss, Diana Edminster.
BACK ROW: Standing: unknown, unknown, Cynthia Plaster, Judy Butler, unknown, Charles McDonald, Keith Griffith, unknown, Joan Johnson, unknown, Pam Ludeman, Linda Hennig, Beverly Emler, Teacher: Mrs. Cooper. (34 first graders in our class!)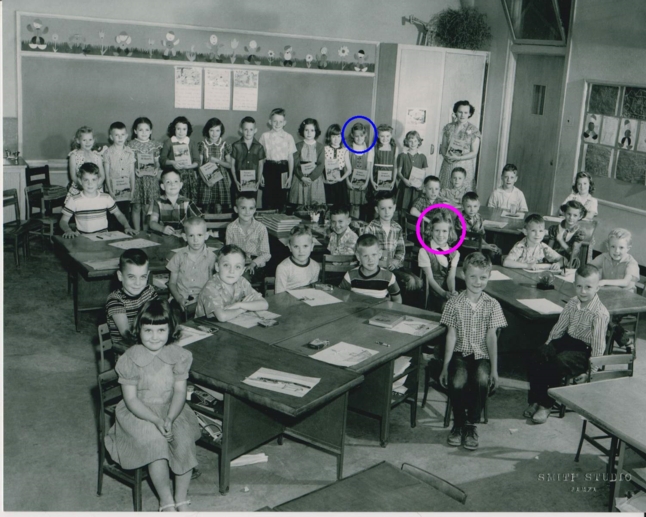 GRADE 2: Mrs. John I Bradley (1954-1955)
FRONT ROW: unknown, Brad Weyandt, Kay Childers, Karen Bird, Max Barnhill, Cheryl Dozier, Johnny Carr, Nita Harvey, Bob Fugate.
SECOND ROW: Jan Howard, unknown, Judy Butler, Jim Brumley, John Mann, Pam Ludeman, unknown, unknown.
THIRD ROW: Sondra Baird, Pat Ludeman, unknown, Gloria Bearden, Terry Criss, Donna, unknown, Suzanne Johnson, Roddy Bray.
TOP ROW: Mickey Smith, Carla Matson, Charles McDonald, Diana Edminster, Mrs. John I. Bradley, Teacher, Doug Hilburn, Joan Jackson, Garland Goodwyn.