Pampa High School
Class of 1965
In Memory
LuRae Nation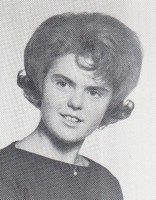 Denise Terrell Havner sent me a copy of the article listed below printed in the "Pampa Daily News" in 1968 telling of the one-car crash near White Deer that claimed the life of Lu Rae Nation.Here is the text of that newspaper article. Pam Ludeman Price
Lu Rae Nation (1947-1968)
Miss Lu Rae Nation, 21-year-old daughter of Mayor and Mrs. Jim Nation, 2100 Mary Ellen, was killed in a one-car accident about 3 a.m. Sunday (March 31, 1968) on U.S. Highway 60, east of White Deer city limits.
According to Texas Highway patrolmen, Miss Nation's car apparently went out of control and struck a tree after a 45-mph wind gust hit her car on a curve near White Deer, about 14 miles west of Pampa.
Miss Nation was born in Amarillo March 16, 1947, and graduated from Ferry Hall, a girls school near Lake Forest, Ill., in 1965. She was a member of First Presbyterian Church.
She had worked in Dallas about a year before enrolling in West Texas State University in Canyon last Fall. She was a sophomore and was living in Amarillo.
Funeral services will be held at 10 a.m. Tuesday (April 3, 1968) in First Presbyterian Church with Rev. Martin Hager, pastor, officiating. Burial will be in Fairview Cemetery directed by Carmichael-Whatley Funeral Home.
Survivors are her parents; a brother, Jimmy Nation of Pampa; and her grandmother, Mrs. J. A. Alexander of Guymon, Oklahoma. She was the cousin of PHS Classmate Billy Kuhn.
Pallbearers will be Charles B. Cook, Myron Marks Jr., Dr. J.B. Veale, Creel Grady Jr., Jim White and John R. Davis.
Memorials may be sent to the Book of Remembrance of First Presbyterian Church or to a favorite charity.