Pampa High School
Class of 1965
In Memory
Phillip Londagin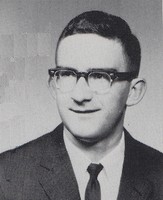 Phil Londagin (1947-2000)
Verteran Sports Announcer Phil Londagin, 53, Dies
Phil Londagin, veteran play-by-play sports announcer, died Wednesday, December. 6, 2000. He was 53.
Mr. Londagin was born in Wewoka, Okla on July 24, 1947. He grew up in Pampa and graduated from Pampa High School. After graduation he moved to Borger, becoming a longtime resident until moving to Amarillo in 1988.
Mr. Londagin had been a radio sports broadcaster since 1968. He announced for the Borger Bulldogs and the Pampa Harvesters. Active in the Amarillo Sports Network, he also broadcast for West Texas A&M University and the Amarillo Dillas.
Mr. Londagin was sports director for KGRO Radio in Pampa and had worked as an account executive in radio and television and as vice president of marketing in the financial industry.
Mr. Londagin owned and operated Merle Harmon's Fan Fair Sports in Westgate Mall from 1991 to 1994 and was an account manager for Heritage Advertising & Marketing before he became director of media relations for the Amarillo Dillas in 1996.
He married Linda Dawson in 1968 at Spring Creek. She died in 1987. He married Randi Zint in 1995 at Amarillo.
He was a member of the Faith Baptist Church. Survivors include his wife; a stepson, Josh Zint of Amarillo; his parents, Bob and Maxine Londagin of Borger; and a brother, Rick Londagin of Stinnett.
Services were Saturday, December 9, in San Jacinto Baptist Church with the Rev. Kurtis Spidel, pastor of Faith Baptist Church, officiating. Graveside services were Saturday in Westlawn Memorial Park Cemetery in Borger. Arrangements were by N.S. Griggs & Sons Funeral Directors, 2615 Paramount Blvd. The family suggests memorials be to the American Heart Association; or the Potter / Randall Chapter of the American Diabetes Association.