Pampa High School
Class of 1965
In Memory
Harlan Hysmith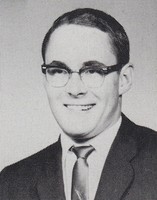 Harlan Wells Hysmith (1947-1997)
Harlan Wells Hysmith, 50, died Thursday, May 15, 1997, in San Antonio.
He was a 1965 graduate of Pampa High School and attended Wayland Baptist College. He was a member of First Baptist Church of Pampa. He served for 16 years in the Army before making his home in Killeen. He married Yuvema Schimanski in 1995 at Killeen.
Survivors include his wife; a brother, Bruce Hysmith of Nashville, Tenn.; a stepsister, Wanita Taylor of Pampa; two stepdaughters, Crystal Simpson and Leslie Love; a stepson, Bernie Schimanski; and seven grandchildren.The family requests memorials be to First Baptist Church of Pampa or the American Cancer Society.