Pampa High School
Class of 1965
In Memory
Jimmy (J. D. ) Helms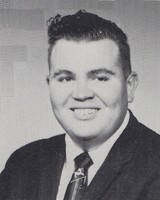 Jimmy Doyle "J.D." Helms (1947-2003)
Jimmy Doyle "JD" was born in Lubbock to Fred H. and Jimmie L. Partin-Helms on January 19, 1947. Upon age 1 the family moved to Pampa, Texas. Five years later he was blessed with a baby sister, Kathy Ann. He attended school until his graduation in 1965.
He was a dedicated servant of Jehovah. He was baptized on August 24, 1959. He began regular pioneering in 1965 in Pampa then soon moved to Amarillo, Texas. In 1970 he moved to Lubbock. In 1973 he was appointed an Elder in the Lubbock Central Congregation. He married Cathy Brodbeck on May 26, 1973 in Decatur, IN.
In 1982 he became a partner with his father and established Helms & Helms Door Hangers until 1995. He attend South Plains College and received his LVN license. Upon graduation he worked at the nursing homes of Parkway Manor, Lakeridge and Carillon Living Center.
Jimmy Doyle "JD" passed away August 9, 2003. Survivors include wife Cathy Helms; sister Kathy Wilson; aunt Ola Mae Price; father-in-law Morris Brodbeck; brothers-in-law Andy Wilson, Phil Brodbeck, Jon Brodbeck, Tim Brodbeck and Ken Brodbeck; nephews Jay Brodbeck, Chris Wilson and Justin Brodbeck; nieces Ambrina Wilson, Cammie Kline, Ashleigh Brodbeck, Samantha Wilson, Danielle Brodbeck, and Kassidy Brodbeck.