Pampa High School
Class of 1965
In Memory
David Geer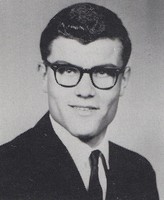 John David Geer (1947-2011)
John David Geer, 64, of Amarillo, died Thursday (Dec. 8, 2011).
Memorial service will be at 2 p.m. Tuesday in Boxwell Brothers Ivy Chapel, 2800 Paramount Blvd., Amarillo, with Dr. G. A. Roach officiating.
Mr. Geer was born on July 20, 1947 in Canton to Janie and John Geer. He lived in Cuba and moved to Pampa, Texas, during high school. He served in the U.S. Army Reserves. He went to West Texas State where he earned a degree in marketing and accounting. Mr. Geer later earned his Master's where he got his CPA license and worked for Santa Fe Energy; Brooks Wilson Accounting Firm and for the past 20 years for the City of Amarillo in the accounting department. He retired in October. He was a member of Toastmasters.
He is preceded in death by his father, John Donald Geer.
He is survived by his mother, Janie Geer, of Casper, Wyo.; a brother, Steve Geer; a nephew, John Geer of Houston; a sister, Ronda Hickman and husband Michael, and nieces, Kendall and Becca Hickman of Casper; a few aunts, uncles and cousins; and his faithful four legged friend, Sophie.
The family suggests memorials to Coffee Memorial Blood Bank, 7500 Wallace, Amarillo, TX