Pampa High School
Class of 1965
In Memory
Bob Fugate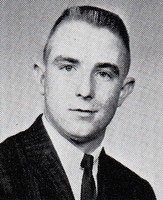 Robert D. Fugate PhD. (1946-2000)
Robert D. Fugate PhD., formerly of Pampa, Texas, died April 6, 2000, in Rochester, NY. He is survived by his wife, Linda (Taylor) Fugate, his children, John Fugate of Honolulu, HI, Jim & Jenny Fugate; his father, Robert A. Fugate of Amarillo, TX; sister, Judy Fugate of Amarillo; mother-in-law, Mattie B. Taylor of Mineola, TX; several sisters-in-law, brothers-in-law; nieces & nephews.
Bob was a devoted father and husband. An expert in the field of fluorescence, he moved to Rochester in 1995 where he worked in sales and marketing for Spectronic Instruments and then for Varion Analytical Instruments. Bob enjoyed restoring classic cars and he loved to sail. He was a member of the Rochester Yacht Club.
His funeral service was held at St. Thomas Episcopal Church, 2000 Highland Avenue, Rochester, NY. Contributions in his memory may be directed to the American Cancer Society, P.O. Box 10609, Rochester, NY 14610-0609.