Pampa High School
Class of 1965
In Memory
Ron Edmondson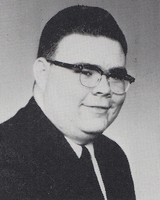 Ron Edmondson (1947-2008)
Ron Edmondson, 60, formerly of Pampa, died Wednesday, June 11, 2008.in Corsicana, Texas
Mr. Edmondson was born June 14, 1947 in Pampa and was a 1965 graduate of Pampa High School. He received his bachelor's degree from Baylor University in 1969 and his Juris Doctor degree from Baylor Law School in 1972 and passed the Texas Bar exam the same year. Ron was an attorney for Lyne, Klein, French, and Womble in Dallas for 17 years and then joined the law firm of Dawson and Sodd in Corsicana. At the time of his death, he was a partner in Jacobson and Edmondson in Corsicana. He was a man of God and was very instrumental in forming the Cornerstone Baptist Church where he sang in the choir as well as in many solos. Ron accepted the Lord at the First Baptist Church of Burlington, CO at the age of nine. He loved to listen to music.

SURVIVORS: Father: R. L. Edmondson of Pampa; 1 daughter: Dr. Amy Mulroy of San Antonio; 2 grandsons: Ian and Duncan Mulroy, both of San Antonio; his aunt: Norma Stephenson of Pampa; and his uncle, Thurman Cline, Jr. of Fort Worth. He was preceded in death by his mother, Charlotte Edmondson, on Jan. 16, 2005.

MEMORIALS: Cornerstone Baptist Church, 801 N. 13th St., Corsicana, TX 75110.