Pampa High School
Class of 1965
In Memory
Avril Doucette (Rush)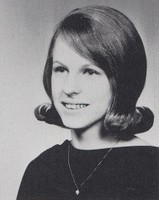 Dr. Avril Brickley Doucette Rush (1948-2001)
Dr. Avril Doucette Rush, 53, formerly of Pampa, died Sunday, Nov.4, 2001 in Arlington. She was born February 26, 1948, in Pampa, Texas. Dr. Rush attended Pampa High School where she was an accomplished National Science Fair Winner. She graduated from the University of Texas at Austin in 1970 with a bachelor's degree in medical technology and microbiology. In the course of her studies she met Michael Rush and they were married on Jan.17, 1970.
They had two daughters and eventually settled in Arlington. She went back to school at the University of Texas at Arlington to fulfill her pre-med requirements. While raising two young daughters, she fulfilled her dream of becoming a medical doctor and graduated in the top 10 percent of her class from Southwestern Medical School in 1984.
She practiced medicine in the Dallas-Fort Worth area as a board certified family practitioner and volunteered her services with Arlington Night Shelter and Mission Arlington as a care giver for the homeless.

She was proceeded in death by her father, Albert Perry Doucette in 1994.

Survivors include her husband; two daughters, Kellie Rush-Frie and husband Ross of Austin and Tracie Rush of Fort Worth; her mother, Mary Doucette; a brother, John Doucette and wife Phyllis of Amarillo; a niece, Laura Ann of Amarillo; a nephew, Mark Lefors of Amarillo; three grandchildren, Michael Edward and Lauren Nicole, both of Austin, and Blake Ryan of Fort Worth.
NOTE: In August, 1985, the READER'S DIGEST had an article about Avril, "Struck by Lightning!" in its Drama in Real Life section written by Peter Michelmore.
I got the copy of the article from READER'S DIGEST and just posted below.. Avril, who was 2 months short of graduating from medical school was living in Arlington, Texas at the time. She was at a soccer league game when one of the players was struck by lightning. Through Avril's quick wit, she and another woman, Linda Casagrande who was an x-ray technologist, provided medical assistance until the paramedics arrived. It is an awesome story about two remarkable and talented women. Scroll down and read this article. Pam Ludeman Price