Pampa High School
Class of 1965
In Memory
Judy Carter (Barnett)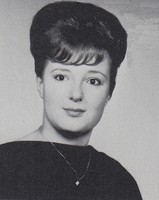 Judy Kay Carter Barnett (1947-1969)
Mrs. Barnett was found dead of a gunshot wound in the Amarillo apartment where she lived with her husband and 2- year-old daughter, Teresa Lou. Police were summoned to the apartment early Thursday morning, July 3, by her husband, Noel Wilson Barnett, 27, who has been charged with murder with malice in connection with the slaying. Barnett is being held in the Potter County jail on the charge after failing to post a $25,000 bond.
Mrs. Barnett was born in Elk City, Okla. She graduated from Pampa High School in 1965 and had been a resident of Amarillo about one year. She was a member of the Calvary Baptist Church in Pampa.
In addition to her husband and daughter, Mrs. Barnett is survived by her mother, Mrs. Virgil Eckroat; a brother, Victor Carter, and her maternal grandparents, Mr and Mrs. A.I. Hall, all of Pampa; her father, Vernon V Carter, Antlers. Okla., a sister, Mrs. Gary Daniels, Yukon, Okla. and her paternal grandparents, Mr. and Mrs. G. C .Carter, Bessie, Okla.