Pampa High School
Class of 1965
We are ON again - 55th "+1" Reunion
PAMPA HIGH SCHOOL CLASS OF 1965
55th plus "1" - CLASS REUNION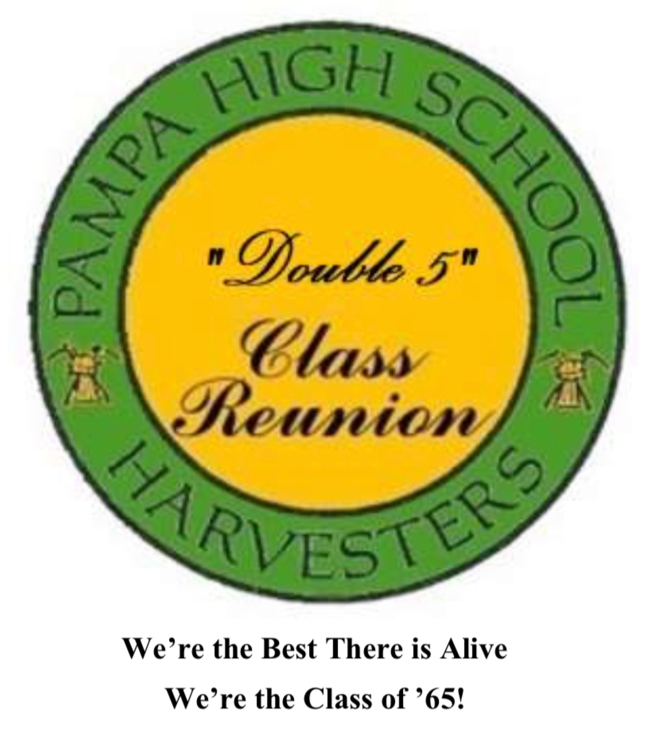 PAMPA HIGH SCHOOL CLASS OF 1965 - CLASS REUNION
PAMPA HIGH SCHOOL CLASS OF 1965 ... "55+1" CLASS REUNION
News from Karen Hepler Bridges

Classmates of PHS Class of 1965,
Mark your calendars for our "55 plus 1" Class Reunion. Here are the details from Karen regarding the daily events, locations, times, cost ($65 per person), places to reserve for your hotel preferences.

Karen will send out the registration form in the near future so be on the lookout for it and other details.

After being pent up so long for this Pandemic, it is a relief to see some sort of normalcy drawing near so we can gather. I hope that we will have a wonderful turnout. I know we are in the mid-seventies bracket of "age," but that is not the "age" of our feelings and actions. We are still very young at heart. Keep that in mind!

Hope to see you in September.

PAMPA HIGH SCHOOL CLASS OF 1965

"55+1" CLASS REUNION
Dear Classmates,
I have decided to go ahead with our "55+1" class reunion and let you know the venue for the reunion on September 17-18, 2021.

Reunion Events:
Early Arrivers:
Thurday - 7:00 pm: Dinner at the Coney Island (downtown)
Friday - 1:30-3:30 pm: Meet at the Bridges' house
(2700 Chaumont Dr.)
Friday - 6:30 pm: Registration at White Deer Land Museum
Saturday - 9:00 am: Meet at the PHS Administration Building
11:30am-5:00pm - Lunch/Visiting at Finley's Fountain
6:30 pm - Dinner and program- Freddy & Sandy
Vanderburg's business headquarters
of Reliant which is east of town.

The cost will be $65 per person.

Thank you to those classmates who have offered your help. The venue planning was not difficult because I know all of the venue contacts and call them friends. Living in this small community has been a wonderful blessing for me and we have an amazing extended family of friends here! So—I will mostly need assistance as we transition from one event to the next on that weekend. If you are available when that happens, I will appreciate it.

Technology and social media have drastically improved the ability to contact all of you and simplify that task that was the biggest challenge for me in the past!

Thank you so much to Pam Price for her extensive work to create our class directory and keep that updated. That list has the emails I am using to contact everyone.

If you have not done so already, please save the dates:
September 17-18 (and 16 if you are an early bird). Please contact classmates and help make everyone aware.

We have five nice hotels in Pampa. As far as I have determined there are no other reunions that same weekend so there should be ample rooms.
I will send out a registration form soon to return with payment.

God bless each of you!
We're the best there is alive!
We're the Class of '65!

Karen Bridges

Friday, September 17 - Meet at the Bridges' house
Also for those early arrivals, we will have a casual time on Friday from 1:30-3:30 at our home at 2700 Chaumont Dr. which is on the loop behind the Pampa Country Club. Refer to your map app on your phone for directions or contact Karen at 806-886-4931.


Friday Evening - September 17 - 6:30 - Registration
We will officially start our registration on Friday evening at 6:30 at the White Deer Land Museum, 112 S. Cuyler, in a newly opened room they have for gatherings. We will pick up name tags and have plenty of appetizers as we kick off our weekend. Phil Hall contacted me to volunteer music so we will enjoy his talent as we meet and greet that night.
https://www.pampamuseum.org/


Saturday, September 18: 9:00am: Meet at PHS Admin Building
Saturday, 18th, at 9:00 a.m. we will meet at the Pampa ISD Administration building at
1233 N. Hobart. We will have coffee and cinnamon rolls, visiting, and an opportunity to view the heritage room with memorabilia of the school and our era.




Saturday, September 18 - 6:30 pm - Dinner and activities with ample time to visit.
Freddy and Sandy Vanderburg's headquarters of Reliant Holdings
(east of town.)Take US 60 east to county rd 12 1/2 and turn left. Drive to the last building on the left and turn in. There is a RELIANT flag on a large pole.






Americinn Lodge Suites Pampa, 1101 North Hobart, Pampa, TX, 79065, US
Hampton Inn Pampa, 2820 N. Perryton Parkway, Pampa, Texas 79065
Holiday Inn Express & Suites Pampa, 3119 Perryton Parkway, Pampa, Texas 79065
La Quinta Inn & Suites by Wyndham Pampa, 500 W Harvester Ave, Pampa, TX 79065
Click on the hotel below to make a reservation
--

PHS Class of 1965
Pam Ludeman Price

C/817-300-1184 | pamprice1965@gmail.com

H/817-481-3774 | plprice@pobox.com

www.phsclassof1965.com (Be sure to JOIN our website)