Pampa High School
Class of 1965
In Memory
John Mann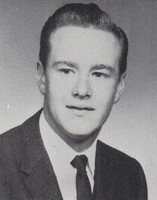 John Aura Mann (1947 - 2008)
John was born August 8, 1947 in Pampa and was a 1965 graduate of Pampa High School. He received his bachelor's degree from Texas Tech and his Juris Doctor degree from Texas Tech School of Law in 1973. John had lived in the Texas Panhandle all his life and was former district attorney for the 81st and 223rd Judicial Districts. He was a devoted oilman and cattleman, and his hobby was riding and showing cutting horses. He was recognized in numerous law journals and several cases that have aired on Court TV. John was a devoted husband, father, and grandfather. He enjoyed playing with his western swing band, The Magic City Boys, which included some of the original members from the Bob Wills' Texas Playboys Band.
SURVIVORS: Wife: Doris Mann of the home; 2 daughters: Jennifer St. Jacques of Tampa, FL and Jamille Hammer of Amarillo; 2 stepdaughters: Kathryn Faulkner of Borger and Karen Speelman of Amarillo; 1 brother: Stanley Ryan of Shamrock; and six grandchildren.
Mr. Mann passed away September 5, 2008. Private graveside services were held on Monday, September 8, 2008, at the Mann Ranch with Buster Reedy, officiating. Arrangements were made by Carmichael-Whatley Funeral Directors of Pampa. MEMORIALS: Amarillo Humane Society, 3501 S. Osage, Amarillo, TX 79103.