Pampa High School
Class of 1965
In Memory
Mike Mahanay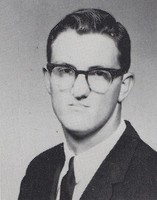 Wiley Michael Mahanay (1947-2012)
Wiley Michael Mahanay, 64, of Pampa passed away late Wednesday night January 18th, 2012 at his home in Pampa. Burial was in Memory Gardens at 8:30 a.m., Saturday, January 21st. 2012.
Mike was born April 14, 1947 at the Worley Hospital in Pampa to Daniel Benjamin and Opal O. Mahanay. Mike was a graduate of Pampa High School and later received an Associate's Degree from Clarendon College. After serving a three-year enlistment in the United States Army that included duty at Fort Ord in California, he returned to Pampa and was employed locally by the United States Postal Service, City of Pampa, and the National Park Service at Alibates Flint Quarries, as well as other firms in the area.
Mike enjoyed numerous hobbies and activities, including amateur radio (KC5MHQ General License), photography, travel, and radio-controlled model airplanes to mention a few. Perhaps his greatest love though, was that of flying! Mike was an instrument rated commercial pilot with multiengine endorsements, as well as being a certificated flight instructor. Mike leaves behind many friends in the aviation community and Pampa area and none more highly thought of than Ron Fernuik, with whom Mike served a tenure as copilot while acquiring his "turbine" time.
Mike was preceded in death by his father, Daniel Benjamin Mahanay in February 1995, and his mother, Opal O. Bynum Mahanay in March of 2004. He is survived by one brother, Dan Mahanay of Pampa, a sister, Katie Gunter, brother-in-law Jerry Gunter, two nephews, Jeremy Gunter and John Gunter, all of Garland, Texas, cousins Curtis Mahanay of Midland, Texas, Judy Vinyard of Ft. Worth, Bill Greer of Duncan, Oklahoma, Beatrice Thomas of Wichita Falls, Texas, Ray Johns of Artesia, New Mexico, Bill Cates of Quanah, Texas, Ronald Dean Shipley of California, and many cousins in Johnson County Texas.