Pampa High School
Class of 1965
In Memory
Richard Klotz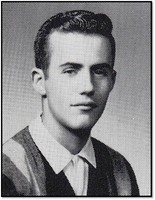 Richard Michael Klotz (1946-2009)
Richard Michael Klotz, 62, of Amarillo died Thursday, May 28, 2009.
Mr. Klotz was born June 15, 1946, in Pampa. He married Nancy Coburn in 1974. He served in the U.S. Army during the Vietnam War.
He served his lord by ministry to others through Gideons International and jailhouse ministry. He was a great husband, father and grandfather. He will be greatly missed by all who knew him.
Survivors include his wife, Nancy Klotz; two daughters, Nicole Helton and Renay Klotz, both of Amarillo; a son, Chad Klotz of Amarillo; five grandchildren; and a host of other relatives and great friends.
Memorial services were held Monday in Trinity Fellowship Church with the Rev. John Love, pastor, officiating. Private burial will be by Memorial Park Funeral Home, 6969 E. Interstate 40.