Pampa High School
Class of 1965
CANCELLED: 55th Reunion
CANCELLED
We've all been affected by COVID-19 in many ways. I know we've all been concerned about our upcoming 55th Reunion. As disappointing as it is, I also feel there are many things up in the air to consider having our 55th Reunion in September 2020. I know several classmates who would normally plan to fly as they have in the past who don't feel comfortable flying this year. Playing it safe is certainly in everyone's best interest. See you in the September of 2021. Please feel free to share this announcement with other Class of 1965 friends.
REMINDER - A side note: Did you make hotel reservations? You will want to cancel them.
Stay safe, happy and healthy!
Pam
Here's is the email Karen sent out today.
...
From Karen Hepler Bridges:
July 13, 2020
Dear Classmates,
After much contemplation I believe that the best decision it to postpone the "55" reunion until next year. Too much is still up in the air about crowd size, wearing masks, etc. The classes of 1960, 1970, and 1980 have all postponed until next year also. I have heard from some of you with your concerns and that has helped me to decide to postpone because we want to have as many classmates attend as possible. I am sending this notice to the email list that Pam Price gave me. Please check with contacts that you have to be sure that everyone gets the update. So we will try again in September of 2021. In the meantime, I pray health and safety for all of you and your families!
CANCELLED ... PAMPA HIGH SCHOOL CLASS OF 1965
55TH CLASS REUNION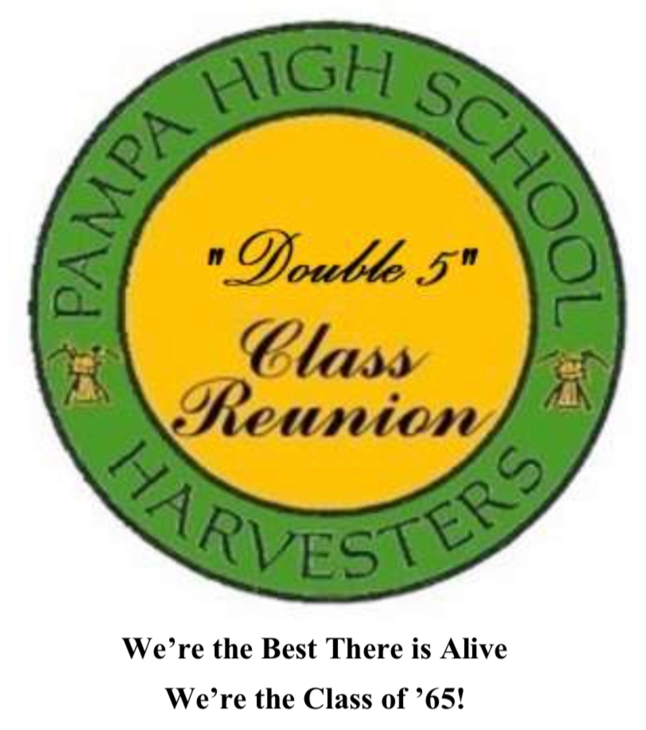 PAMPA HIGH SCHOOL CLASS OF 1965 - 55TH CLASS REUNION
Dear Classmates,
I have had plans prepared for several months for the class reunion but have waited to send them out because of the pandemic situation in which we find ourselves. However, I have decided to go ahead and let you know the venue for the reunion on September 18-19, 2020 and then ask you to stay tuned until we know for certain if it will happen.
Our mailing address is:
Pampa High School Class Of '65
2700 Chaumont Drive, Pampa, TX 79065
Add us to your address book

Reunion Events:
Early Arrivers:
Thurday - 7:00 pm: Dinner at the Coney

Friday - 1:30-3:30 pm: Meet at the Bridges' house
Friday - 6:30 pm: Registration at White Deer Land Museum

Saturday - 9:00 am: Meet at the PHS Administration Building
11:30am-5:00pm - Lunch/Visiting at Finley's Fountain
6:30 pm - Dinner and program- AmericInn Event Center

The cost will be $65 per person. Thank you to those classmates who have offered your help. The venue planning was not difficult because I know all of the venue contacts and call them friends. Living in this small community has been a wonderful blessing for me and we have an amazing extended family of friends here! So—I will mostly need assistance as we transition from one event to the next on that weekend. If you are available when that happens, I will appreciate it.

Technology and social media have drastically improved the ability to contact all of you and simplify that task that was the biggest challenge for me in the past!
Thank you so much to Pam Price for her extensive work to create our class directory and keep that updated. That list has the emails I am using to contact everyone.

If you have not done so already, please save the dates:
September 18-19 (and 17 if you are an early bird). Please contact classmates and help make everyone aware.

We have five nice hotels in Pampa. As far as I have determined there are no other reunions that same weekend so there should be ample rooms.
I will send out a registration form to return with payment when we are completely confident that we can move forward with the reunion.

God bless each of you! The best there is alive! The class of '65!
Karen Bridges
Friday Evening - 6:30 - Registration
We will officially start our registration on Friday evening at 6:30 at the White Deer Land Museum, 112 S. Cuyler, in a newly opened room they have for gatherings. We will pick up name tags and have plenty of appetizers as we kick off our weekend. Phil Hall contacted me to volunteer music so we will enjoy his talent as we meet and greet that night.
https://www.pampamuseum.org/


Saturday, September 19: 9:00am: Meet at PHS Admin Building
Saturday, 19th, at 9:00 a.m. we will meet at the Pampa ISD Administration building at
1233 N. Hobart. We will have coffee and cinnamon rolls, visiting, and an opportunity to view the heritage room with memorabilia of the school and our era.




Saturday - 11:30-5:00 - Finley's Fountain
Saturday from 11:30-5:00 we will meet at Finley's Fountain, 114 N. Cuyler on Main Street. It was the former Heard Jones Drug Store and before that time was the old LaNora Theater.
The owners are Kathy and James Bagley and they have allowed us to reserve it for the day. It is vintage decor from our era and great food. We will have a buffet lunch and then visit the afternoon away, which seems to be the request I most hear. Some of our classmates from out of town have visited there and enjoyed the ambiance as well as the food. There are several fun stores in downtown for retail therapy also!

https://www.facebook.com/finleysfountain/



Click on the Hotel of your choice below
to make reservations!
Click on the Hotel of your choice below
to make reservations!